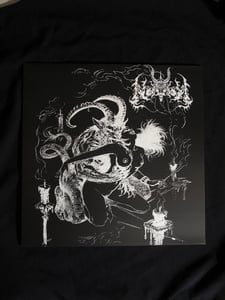 $

13.00
One of the absolute best and most under rated US underground Black Metal bands in existence.
Originally released on tape by Parasyte Curse in 2010. Double black lp's limited to 300, single pocket jacket with extra wide spine.
Compilation contains Black Evil From Before 1996, Winter Rehearsal 1997, Rehearsal 1998, Passing Through the Fires EP 2006, Bloodlust Evisceration Demo 2009, and 2 live tracks recorded in 2007. Raw, scathing, trance inducing production sound. Not for trendy crossover pussies.
1. Intro
2. In the Vein of Forbidden Lust
3. Darkness, In Whose Souls Linger Here
4. Eyes of Black Oblivion
5. The Howl of Worship unto Dead Shadows
6. When Those Rise to Feed
7. Womb of the Ancients
8. Pass Through the Fires
9. Out of Flesh, In Darkness
10. Without Mercy for the Living
11. Blood Evisceration
12. Spells of Ancient Sorcery
13. Winds of the Cursed