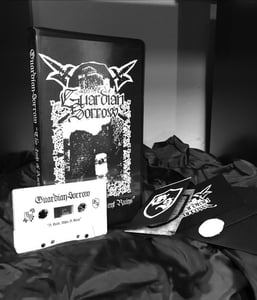 $

10.00
Raw melancholic Black Metal/ Dungeon Synth from Spain.
This compilation collects the bands first two demos ( "A Castle Under a Curse" and "The Ruins of an Empire Forged by Love") from 2017 both of which were limited to only ten copies.
Double sided cassette housed in an oversized library case, first copies come with a silkscreened patch and small insert in a wax sealed envelope.
Undisclosed limited amount as usual.
https://guardiansorrow.bandcamp.com